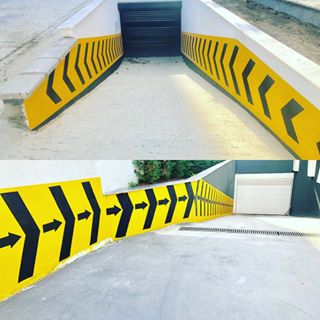 ZBS DYE AND CHEMICAL INDUSTRY TRADE LIMITED COMPANY
Inside the factory, workplaces, warehouses-warehouses, open-closed parking lot and areas, Pedestrian walkway marking, vehicles or devices and machines used in production, as specified in the regulations of human safety and 5S occupational safety, warning and warning purpose identification.
In the indoor and outdoor car parks such as workplaces, residences, shopping malls, hotels, land roads, warehouses, warehouses, etc., the entrance and exit of the vehicles are arranged and parking and wall and floor painting processes are performed for the vehicles to be easily parked. The painting of the ground is done to determine where the vehicles will stop and to limit the maneuver. Wall paintings also provide drivers with clarity and warning appearance, which greatly reduces the risk of accidents. Wall painting processes that can be applied as a single strip are done with options such as painting two strips in two different colors and strip application which we call as sergeant. All of these processes are security-enhancing. These signs are often called "Occupational Safety Markings eleri. In terms of work and worker safety,
The links below provide visuals and videos from some of the works we do. For your opinion, please follow.
ZBS TEAMS, ZBS DOUBLE COPY. Pedestrian Crossing Application with Paint:
LOCATION: AKASYA AVM (KADIKOY / ISTANBUL) OPEN AREAS PEDESTRIAN CONSTRUCTION
EXCELLENT COATING OF ZBS FLOOR PAINT ON ONE FLOOR
ZBS TEAMS, ZBS DOUBLE COMP. LINE VIDEO WITH PAINT:
LOCATION: MERCURY HOTEL OPEN PARK